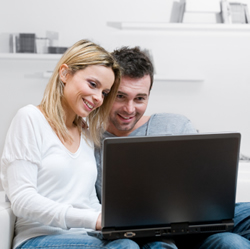 Open the Windows 8 Control Panel on right side of the screen and choose "Settings".

Open "Control Panel".

Open "Network and Internet".

Open "Network and Sharing Center".

Click on "Setup a new connection or network".

Select "Connect to a workspace" and then click on "Next" button.

Now enter the one of the View TV Abroad VPN server addresses as the "Internet address". You can find the list of available UK & USA servers in your "Welcome email". Select a UK server to Watch UK TV or a US server for US TV. Then enter a descriptive name, eg "View TV Abroad UK 1" in the "Destination name". Click on "Create" button.

You can find the created connection in the "Network Control Panel" on right side of the screen. Click on "Connect"

Enter your Username and password details - as given in your "Welcome Email". Connect the VPN by clicking on "OK" button.

Wait until the connection is successfully established and then you can start watching TV. Repeat this process for additional servers (in case one becomes unreachable) and also if you want to watch US TV you will need to set up at least 1 US server as well.

You can now start watching UK & US TV by selecting channels and services from the channels page.
Living abroad, travelling, working away on business or on holiday?
Don't want to miss out on your favourite TV? View TV Abroad makes watching UK & USA TV, live or on demand, wherever you are, easy & accessible, using your TV, laptop, PC, Mac, Android, iPhone or iPad..
Subscribe Now