Long Lost Family
Monday 24th, 9pm, ITV
This program never fails to move with the help of hosts Davine and Nicky and their genuine sensitivity ….This episode we see Wendy, after a 20 year search, reunited with her father, an American sailor who was thrown out of the country which then ended the relationship with Wendy's mother and the second tear-jerking story features Helen who, under serious pressure from her proud father, gave her son up for adoption 35 years ago. Helen was only 17 years old when she had him, and she has never since stopped thinking about, or looking for, her baby. .
Wimbledon
All week, BBC
For the first time since 1937, this Wimbledon will contain a British men's singles competitor with a major title under his belt. How will it play out? Will Andy Murray's 2012 US Open triumph relieve the pressure or ratchet it up? One thing is for sure, though: men's tennis has rarely been this ferociously competitive. And it's surely never been more spectacular, the return of the Duracell bunny of the baseline, Rafa Nadal, merely adds to the sense of anticipation. The women's competition is probably too predictable to be truly essential viewing at the moment, it'll be a surprise if anyone arrests the progress of the incomparable Serena Williams. Strawberries and Pimms at the ready…we can't wait!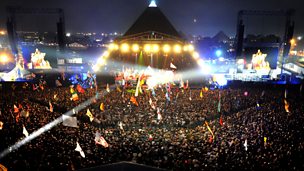 Glastonbury
Friday 28th – Sunday 30th, BBC
Glastonbury is back and, as usual, the Beeb is rolling out the red (button) carpet. Look out for festi-favourite Dizzee Rascal (9pm,BBC3), preceded by Professor Green (8pm) and Jake Bugg and Rita Ora (7pm). Over on BBC2, there's a highlights package at 10pm followed by live coverage of the Arctic Monkeys' headline set at 11pm. And hang around for a glimpse of Portishead, Chic, the Horrors and Sinead O'Connor, although disco lovers will be able to catch the whole of Chic's set over on BBC4 at 11.05pm.
On Saturday, we begin at 4pm on BBC2, but the real action is over on BBC3 where there'll be a chance to see Laura Mvula and Noah and the Whale (7pm), Ben Howard and Maverick Sabre (8pm), Two Door Cinema Club and Example (9pm) and Chase and Status (10.30pm). BBC4, meanwhile, offers the mighty Public Enemy at 10.55pm.
There is so much more but if you haven't got a ticket you can watch it all!
Zero Hour
Hulu
We are sure you'll remember Anthony Edwards from ER not too long ago, and now he's set to take on the world of television again with 'Zero Hour'. In the show, he returns – along with a dynamic ensemble cast – to this dramatic adventure thriller, as Hank Galliston, a man who's questioning everything and everyone he ever believed in – including himself. If you're a fan of Prison Break then you're sure to want to check this out as Paul Scheuringhas created and written this brand-new series. You can catch up with all the episodes on hulu and our US servers.
The Tour de France
From Saturday 28th June, ITV & Eurosport
The 100th Tour de France begins this Saturday. Starting in Corsica, 198 cyclists will roll away from the start line with 3,000km ahead of them, through some of the most brutal and picturesque terrain Europe has to offer. Twenty-one stages over three weeks, with just two rest days among the chain-slips, crashes, saddle sores and terrifying descents: it should be enthralling viewing.
Alongside the excellent and comprehensive coverage, our recent love-in with all things spoked could make this the biggest annual sporting event on the planet. After the major successes of Bradley Wiggins, Mark Cavendish and Team Sky in the last few years, the Tour de France is becoming as major a televisual occasion over here as it is in Continental Europe.
Although Wiggins is absent through injury, last year's runner-up Chris Frome is favourite, with former doper and ex-champion Alberto Contador his main rival. Expect this race to twist and turn like an Alpine ascent to the very last Saturday.
Watch all these great TV programmes using the View TV Abroad connection