Game of Thrones

Monday 22nd April, 9pm, Sky Atlantic
This week airs the 4 episode of the 3rd series and WOW it doesn't let up! The strategic complexity continues and this week it's all about the pawns; Margaery Tyrell moves incrementally future husband Joffery around her little finger. Varys digging for information Sana Stark and The Black Watch dug in at Craster's Keep and Theon gets into even more trouble! We are only saved by the doom and desperation with the sun of Astapor where Danys Targaryen amasses her army to make her move on Westeros.
Not sure on all that's going on? Catch up now with Sky Go.
The Great Bear Stakeout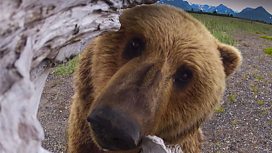 Wednesday 24th April, 9pm, BBC2
We are in Alaska and the grizzily bears have woken from hibernation and are hungry! This two part documentary follows the bears from awakening, to finding food, reconnecting with the world and some touching moments of bear cubs being cared for and protected by their mothers. Beautifully shot and edited with the added bonus of the dulcet tones of Billy Connelly and his subtle humour breaking through from time to time!
First episode on this week watch live or on catch up with BBCiPlayer.
Snodgrass
Thursday 25th April, 9pm, Sky Arts
Playhouse presents 'Snodgrass' an adaptation of the short story by Ian R McLeod. This beautifully simple, human drama brings to an alternative reality where John Lennon left the band on the cusp of its greatness. We meet John in a Birmingham scratching a living in dead-end jobs. Ian Hart's portrayal of Lennon is humouress and moving with great attention to detail and captures with intense emotion of disappointment and regret. One most definatley to watch. Episode Two shows this week…catch up with episode one on Sky Go now.
The Ice-cream girls

Friday 26th April, 9pm, ITV
This three part thriller set in Brighton may not be as edge of your seat gripping as Broadchurch, but its mixture of innocence, pain and passion is never this less captivating. Teenage friends Poppy and Serena for one Cranberries- sound tracked summer in 1995 have taken a dramatically different course. 17 years on Poppy has just been released from prison for killing a seedy Maths teacher, a crime she vehemently denies while Serena has married a doctor, has a daughter and left Brighton behind. The two, unexpectedly, become reunited and flashbacks of that fateful summer and what really happen become apparent.
Episode Two airs this week so you have all week to catch up with episode one on ITV player.
The Village

Sunday 28th April, 9pm, BBC 1
This new BBC drama really is one of its best over recent months. Stellar performances by John Sims and Maxine Peak take us back to First World War England and a small village trying to come to terms with what is happening to their young men and how to cope without them. Last Sunday's episode showed the villagers trying to continue on with normal life while, unbeknown to them but with rumours flying, the Battle of the Somme had started. In the next episode the Middleton's hardship continues, during a short leave from the fighting Grace knows there is something wrong with Joe despite him desperately trying to conceal his shell shock from his family whilst Bert, unwittingly, exasperates the problem.
Catch up with all the episodes and watch live the next one with BBCiPlayer.
Watch all these great TV programmes using the View TV Abroad connection